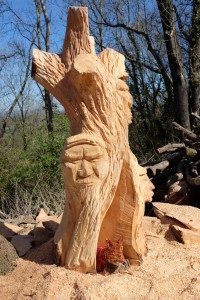 2016 is the centenary of Roald Dahl's birth. Being a Welshman, just 'up the valleys' from Llandaff. I couldn't pass by the opportunity to celebrate the great man by creating a stand for this year's RHS Chelsea in tribute to one of my favorite of his books, 'Fantastic Mr. Fox'.
I decided that what we needed for this year's stand was to recreate Mr. Fox's tree in the midst of a wild meadow and perhaps the cider shed too. So the scene set, but how to do justice to Boggis, Bunce, Bean and Mr. Fox? It was time to call in some local friends and artists.
For the tree it seemed obvious to approach Adam Humphreys at Usk Castle. An international chainsaw artist, Adam creates sculpture using only a chainsaw, bringing to life animals, people and objects with dynamic movement rich in expression and character. Who better to recreate Mr. Fox's tree?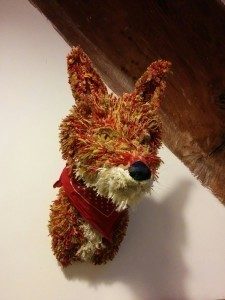 Once Adam and I had chosen a suitable tree he set to work, carving the faces of Boggis, Bunce and Bean into the tree trunk.
Mr. Fox, given his character, needed to have a suave and debonair style! Who better to create such a charming individual than Helly Powell of Fauxidermy. Finding inspiration in the nature that surrounds her home near the Brecon Beacons, her textile taxidermy sculptures use sumptuous velvets, Chenille, Silk, Wool & Linen.
For the backdrop to this scene, I turned to my friend, Cara Campbell. Cara attended the fresco school of Leonetto Tintori in Tuscany and relishes this ancient technique of painting. She finds fresco the perfect medium to paint her love of nature, the medium allowing her to immerse herself in exquisite detail.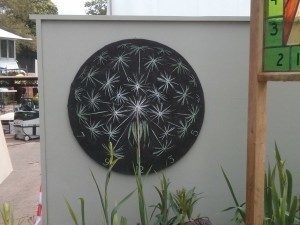 As for the Cider Barn, local award winning Apple County Cider, was quite simply the evident choice. Not only have this family run business won numerous Great Taste awards but in 2015 the prestigious Golden Fork award for the best food & drink product in Wales. Each cider is made from 100% fresh pressed juice of a single variety of bitter-sweet apples all grown in their local orchards.  Farmer Bean would have been extremely proud to have created cider as delicious as Apple County's! Steph and Ben were able to supply us not only with cider but flagons, and cider making equipment to help dress our cider barn.
But what of the wild meadow this bucolic scene is set in? Once again our friends at the charity Growing Space have come up trumps with a planting plan of
Wild meadow grass
Fox gloves digitalis purpuria
Shuttlecock ferns
Welsh poppies
Mind your own business
Ivy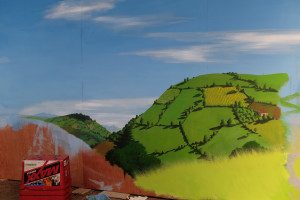 And as for the sundials? Well, as always, we will be showcasing a collection of our stunning armillary spheres and horizontal dials in a range of sumptuous metals and sizes. Our beautiful dandelion inspired Scraffitio dial perfectly compliments our meadow theme. And new for Chelsea this year, Cara Campbell is designing a striking Christopher Wren inspired vertical dial.
We hope you will come and join us to celebrate Roald Dahl's anniversary at Chelsea this year. You will find us on stand RGB 252.