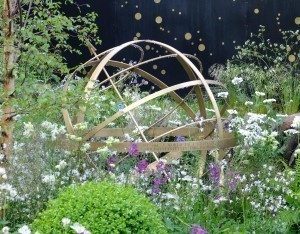 So how come I was looking for the perfect setting for a huge 110cm armillary?
Well, it all started towards the end of 2013 with a phone call from Harry Rich, of Rich Landscapes asking me to make them a large armillary for their show garden for RHS Chelsea Flower Show 2014. What a buzz for me to be involved with Rich Landscapes, who had won a gold the previous year, and for my armillary to be on display at possibly the best spot on Main Avenue.
I worked my socks off and made the monster 110cm armillary in double quick time, on top of my usual work and preparing my own RHS Chelsea stand.
It was definitely worth it. My Border Sundials stand won a 5 Star award and Rich Landscapes won a Silver-Gilt. I was delighted, my armillary was in the press every day and the brothers got a great write-up in the Daily Mail 'Band of Brothers' Though I say it myself, the armillary was the highlight of their garden!
But, what to do with the armillary after Chelsea was all packed up and returned to grass?
My garden is big, but not that big! This was a massive armillary, made for the grandest of gardens.
Thankfully my local award winning Country House Hotel, Llansantffraed Court came to the rescue. I had made a smaller armillary for them a few years ago, but they had just redesigned their terrace and wanted to go big!
Where better to display an award winning sundial than at an award winning hotel.
I'm used to delivering sundials all over the country, so to take one a mile down the road was a real pleasure. It is now pride of place on the terrace, and the centre piece of several bride photos. A fitting resting place for one of the best armillaries I have made.