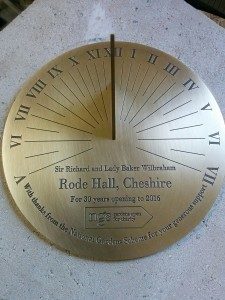 We are extremely proud to announce that we have won an exclusive commission to produce sundials for the National Garden Scheme.
We have been asked to produce fifty-five personalised sundials per year. Each of these will be gifted to garden owners who have supported the scheme for many, many years.
Capel Tenison, founder of Border Sundials said "I am delighted that we are able to make these commemorative sundials in recognition of the hard work and dedication the teams at each of these gardens undertake to open to the public each year in order to raise money for charity."
The first sundial was sent off to the National Trust owned Hanbury Hall in Worcestershire which has opened its gardens to the NGS for the past 30 years. The inscription reads "With thanks from the National Garden's Scheme for your generous support". Other illustrious gardens have included Rode Hall in Cheshire and Maxstoke Castle in Warwickshire.
The National Gardens Scheme has a rich and interesting history that is closely connected with nursing in the UK. `District` nursing, created in the late 19th Century, was a national voluntary organisation setting standards and training nurses.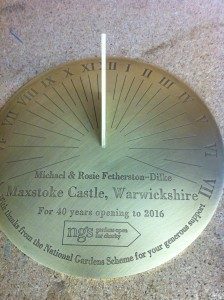 In 1926 the District Nursing Organisation decided to raise a special fund in memory of their patron, Queen Alexandra, who had recently died. The fund would pay for training and would also support nurses who were retiring. A council member came up with the idea of raising money for charity through the nation's passion for gardening, by asking people to open their gardens to visitors and charging a modest entry fee that would be donated. A year later in 1927 The National Gardens Scheme was founded.  Individuals were asked to open up their gardens for 'a shilling a head'. In the first year 609 gardens raised over £8,000. Gardens were still charging a 'shilling a head' until the 1970s!
In 1980 The National Garden Scheme was made an independent charity and in 2005 it was made a charitable company.
Since its foundation, the National Gardens Scheme has donated over £45 million to nominated beneficiaries including Marie Curie, Macmillan, Carers Trust and Parkinsons UK. All of the nominated beneficiaries are nursing and caring charities.
Nearly £23 million has been donated within the last ten years. Their continuing support means that for most beneficiaries they are the largest cumulative donor in their histories. The National Gardens Scheme's commitment to nursing and caring remains constant, and the charity continues to grow and flourish.