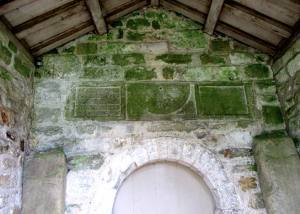 Embedded in the wall of Saint Gregory's Church in Kirkdale, North Yorkshire, the Kirkdale Sundial is an ancient canonical sundial which dates to the mid 11th century. Interestingly, this sundial does not actually tell the time.
Canonical sundials instead indicate the canonical hours, when members of the community must perform certain religious acts. These types of sundials are traditionally found on the south walls of medieval religious buildings, often positioned at eye level.
The dial itself is a semi-circle, divided into eight equal sectors. At the centre of the circle would have been a horizontal wooden stylus, perpendicular to the wall. This would cast its shadow on the sectors, giving the 'canonical hour'. However, now all that remains is a circular hole where the stylus would have been.
Originally, when the shadow of the stylus fell on one of the dividing lines of a sector, the corresponding prayers would be said. There were no numerical indications on the dial at all.
The sundial is to be found on the wall of Saint Gregory's church, Kirkdale, North Yorkshire, over what is now the main door to the church, under the porch roof that protects the entrance (which has no doubt protected it from the elements, although stopping its practical use.)
The sundial's Old English inscription is a dedication which states that the church was completely rebuilt in the middle of the 11th century at the initiative of a man named "Orm, son of Gamal." Both personal names are Scandinavian in origin, as are two other personal names that appear in the inscription, "Hawarth" and "Brand."
While the Kirkdale Sundial has been built into the wall of Saint Gregory's Church, in rural churches these sundials were very often just scratched on the wall, making some of them difficult to distinguish from graffiti. Indeed, as they were probably hand made by monks as aide-mémoires, they probably are graffiti. You can read more about this in my History of Sundials page.

The main text of the sundial reads: +ORM GAMAL SVNA BOHTE SCS GREGORIVS MINSTER THONNE HIT WES AEL TOBROCAN & TOFALAN & HE HIT LET MACAN NEWAN FROM GRVNDE XPE & SCS GREGORIVS IN EADWARD DAGVM CNG &N TOSTI DAGVM EORL+
The Modern English translation of which is, "Orm Gamal's son bought St. Gregory's minster when it was all broken down and ruined, and he had it built anew from the ground for Christ and St. Gregory in the days of King Edward and of Earl Tostig."