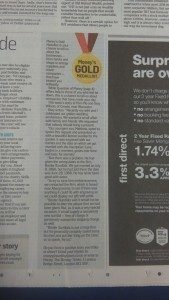 Border Sundials is delighted to have been featured in the Sunday Times. You can read the full article below. Thank you to Mo and Gray Wilson for nominating us.
Money's Gold Medalist: Border Sundials
Money's gold medalist is your chance to tell us about the businesses — from banks and shops to energy suppliers and travel companies — that have treated you brilliantly.
While Question of Money offers help to those of you who feel let down, this is a chance to tell us about companies that have made your day.
This week's entry is from Mo and Gray Wilson, of Crowle, near Worcester.
Gray writes: "Recently my wife and I celebrated our golden wedding anniversary. We wanted a small affair with family and friends. We requested that nobody should bring a present.
"Our youngest son, Matthew, opted to ignore this request and presented us with a beautiful bronze sundial for the garden. It was engraved with our names and the date on which we got married with the inscription 'Love begins in a moment, grows over time and lasts for eternity'.
"But there was a problem. He had given the wrong dates to the firm, Border Sundials. We got married on July 9, 1966, but he had told them the date was June 29, 1966. He has never been good with dates.
"To try to save him embarrassment, we contacted the firm, which is based near Abergavenny, to see if there was anything it could do with engraving so we could display our gift with pride.
"Border Sundials said it would not be possible to alter the plaque that we had been given. But, as it was a very special occasion, it would supply a completely new sundial — free of charge. It generously waived the shipping charge as well.
"Border Sundials is not a large firm but its generosity certainly saved some blushes and put the 'icing on the cake', so to speak, for us."
The Sunday Times; August 7 2016