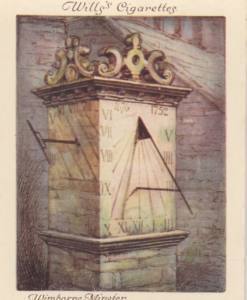 This particularly large specimen of a vertical sundial of the square block type is located at The Minster Church of St Cuthburga.
For hundreds of years the Minster has been a centre for pilgrimage, prayer and worship. It is not a museum, although it has inherited some wonderful treasures and artefacts. It is an ancient building sitting majestically in the middle of the town of the same name. Its two Towers are visible as one enters the Town and from various vantage points within the Town.
The foundation goes back to c.705AD and the present building dates from c.1120 with many additions spanning the centuries, making it a truly interesting building to visit.
The sundial can be seen in the picture of the Minster below and stands about 9ft above ground level. The dial is 6ft in height. The pillar has 3 dial faces, the east and west, being 3ft and the south 4ft in width. The sundial which bears the date 1752 formerly stood on the gable of the north transept but was taken down when the Minster was undergoing restoration.
For more information visit: https://www.visit-dorset.com/things-to-do/the-minster-church-of-st-cuthburga-p2390153