The sundial that creates a striking focal point in the middle of The Plaza, a pedestrianised shopping area in the West Sussex town of Horsham, is a centenary sculptural sundial.
Commissioned by Horsham District Council, this month's 'Sundial of The Month', is an ornate design and is the work of sculptors Lorne McKean, Edwin Russell and Damien Fennell.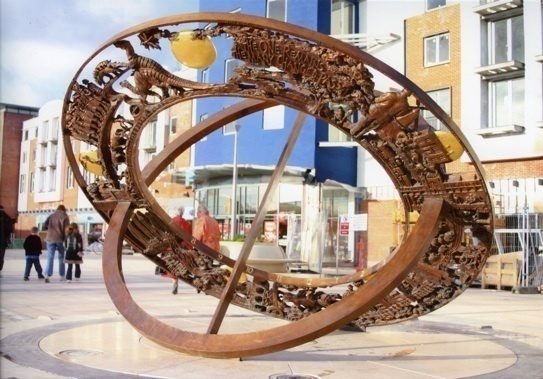 Unveiled by Her Majesty The Queen on 24th October 2003, the sundial is the start of the district-wide Heritage Trail and is also home to Horsham District's time capsule. The capsule contains objects submitted by groups and individuals across the district as being most representative of the year 2000.
Made from bronze, the sundial is three metres tall and five meters wide. Its pierced bronze ring features relief sculptures and lettering depicting the history of the Horsham district. The sundial sits on a marble base which features a ring of bronze text describing the narrative depicted on the sculptural reliefs of the sundial.