Christenings are celebrations of joy, welcoming a child into the world.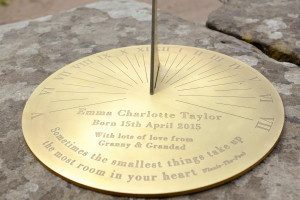 A traditional Christening or baptism is essentially a child's initiation into the Church. It is also a great excuse to get the friends and family together to celebrate. Religion aside, the common theme is love and support from the child's family and friends, and celebration of the child's birth and life ahead.
So what if you are asked to be a Godparent? Such a formal social occasion comes with a certain amount of social anxiety. You want to behave appropriately, and that includes giving the right gift.
As a Christening is a personal affair – personalised gifts are always a great idea! Gifts from Godparents not only offer thanks but serve as a reminder of their commitment to the child. Also, while it may seem first nature to give babies and small children teddy bears or dolls, a more lasting gift that they can continue to enjoy in later life may be more fitting in symbolizing the life-long commitment that a Christening represents.
Examples of presents that can be personalised include silverware, books (especially the bible, classics or book sets), jewelry or trinket boxes. And, of course, sundials!
Now what to say! Obviously the child's name and date of the christening but this is also an oppourtunity for something poignant, something that the child can reflect on as they grow older. For a little inspiration these are some of our favorite quotes and messages:
"Every Person's life is a fairytale written by God's fingers" Hans Christian Anderson.
"Now I lay me down to sleep, and pray the lord my soul to keep. Guide me safely through the night, and wake me with the morning light." c18th verse
"Today you are You, that is truer than true. There is no one alive who is Youer than You". Dr Seuss
"Sometimes the smallest things take up the most room in your heart" Whinnie the Pooh
'May the Lord give His angels charge over you, to guide you in all your ways' Psalm 91.11
'For I know the plans I have for you…plans to give you hope and a future ' Jeremiah 29.11
A sundial celebrates the gift of time that lasts a lifetime. An original and entirely personalized gift to weather the storms and celebrate the sun, a sundial makes the perfect gift for a Christening, for that godchild in your life.
The fantastic Jo Jo Maman Bebe are currently running a competition to win one of two 8" Horizontal Sundials! Why not head over to their Facebook page to enter!