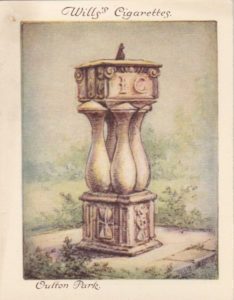 The mansion of Oulton Park in Cheshire, England was built around the beginning of the 18th Century. According to Wills Cigarette Cards the interesting illustrated sundial stands in the corner of the garden. The square base bears an hour glass as well as the Egerton Arms and Crest. Above this are 4 pillars supporting the dial block, on the sides of which are carved more coats-of-arms, the date 1667 and the initials I.C. It is not known whose initials they are.
During the Second World War, Oulton Park's grounds were used as one of the staging camps for US Army units under the command of General Patton prior to the Normandy landings in 1944 American World Heavyweight Champion boxer Joe Louis put on several exhibition bouts for the troops garrisoned at Oulton Park. After the war, much of the estate remained unused. The estate's original house had been destroyed by fire in 1926 leaving vacant parkland.
By the early 1950s the members of the Mid-Cheshire Car Club took it on themselves to create a motorcar circuit on the estate. With Sir Philip Gray-Egerton's permission, a circuit was mapped out starting early in 1953 and by August the new track was in existence, measuring 1.504 miles, and almost rectangular in shape.
The racing circuit is now owned and operated by Jonathan Palmer's MotorSport Vision organisation. Find out more about Oulton Park at www.oultonpark.co.uk