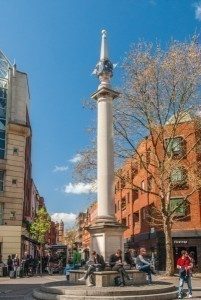 The Seven Dials Sundial, near Covent Garden, London is regarded as one of the city's 'great public ornaments' and the layout and identity of the Seven Dials area revolves around it.
Sitting proudly at the centre of the junction of seven London streets, the monument designed in 1693 by stonemason, Edward Pierce, was commissioned by MP Thomas Neale to form a centre point in the new development of the area. Neal is remembered by Neal Street and the nearby Famous Neal's Yard.
The design comprises of a pillar – or column – topped by six sundial faces, set at 60 degree angles from each other, with the gnomons and markings for the hours. The column rests on a square base, itself set upon a stepped dais. The column rises to a multi-faceted sundial topped by a slender spire. At the very top of the spire is a gilded ball.
There is some question as to why the design and surrounding area are referred to as 'Seven Dials' when in fact only six sundial faces feature in the monument and there are different theories for this. One is that the monuments column itself acts as the seventh gnomon, creating a much larger sundial.
Another theory is that two of the roads entering the junction did so at such similar angles that a seventh sundial face was thought unnecessary. However, it's also worth noting that in the original plans for the design of the area there were only six roads meeting, the seventh being added later somewhat inconveniently for the symmetry of the monuments design!
I think this is the most likely explanation as Thomas Neal was an enthusiastic property developer who hoped that his new development would rival Covent Garden for high land prices. So the temptation to add another street must have been very strong!
Also known as 'The Sundial Pillar' the monument which stands at the junction today is not actually the original structure, but a copy of the original design, which was taken down by the Paving Commissioners in 1773 because they thought it acted as a gathering place for 'undesirables'. The original pillar is now proudly placed in Weybridge, Surrey as a memorial to Princess Frederica, Duchess of York and Albany.
The decent of the area continued until the 19th Century when it was considered one of the most notorious slums in England with Charles Dickens, Gilbert and Sullivan, and Agatha Christie all referring to Seven Dials and undesirable area.
The current column is an exact replica of the original and was installed in 1989. It is well worth a visit if you find yourself in the West End. It is now a trendy area, and maybe in the words of Charles Dickens, 'The stranger who finds himself in the Dials for the first time…at the entrance of Seven obscure passages, uncertain which to take, will see enough around him to keep his curiosity awake for no inconsiderable time… '