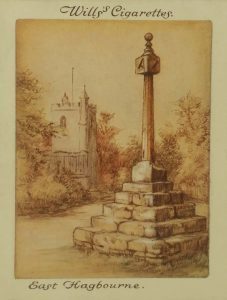 The sundial at East Hagbourne, Berkshire is October's "Sundial of the Month". On the back of the cigarette card it states:
Nestling in the Thames Valley, not far from the lovely old town of Abingdon, are some of the prettiest villages in England, perhaps the most charming being East Hagbourne. There are at least two village "crosses" one merely an old stump, while the other shown in the illustration carries a sundial. This is said to have replaced an old cross destroyed during the Civil War between King Charles I and the Parliament.
East Hagbourne's toponym is derived from Hacca's Brook, a stream that flows through the village. Today East Hagbourne has a 17th-century public house, The Fleur de Lys. A Church of England Primary School, village hall, small post office and a village shop run by local volunteers. For a number of years, it was awarded the title of "Best Kept Village in Oxfordshire."
If you are a huge Doctor Who fan you may also recognise the village from the series The Andriod Invasion which was filmed in July 1975. In 1989 Tom Baker who started as the Doctor in the series returned to the village to be interviewed by Nicholas Briggs about his time on Doctor Who for the Reeltime Pictures Myth Makers series in 2012. Another great reason to visit the village and the striking sundial.