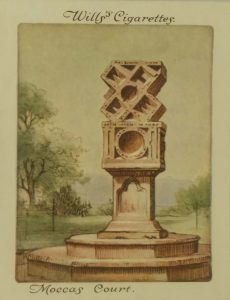 Our sixth sundial of the month is located at Moccas Court Herefordshire.
"This fine sundial, which probably dates from the time of Charles II, is one of the most perfect and beautiful examples of its type in England. It was originally erected at Mornington Court, and when that property came into the possession of the Cornewall family, the old sundial was brought to Moccas."
Moccas is one of Herefordshire's grand houses and its name is derived from Moch ros, the Welsh for swine moor. Completed in the early 1780s, original plans were commissioned from the Adam brothers, but it was built by John Nash's pupil, Anthony Keck. Similarly, in the gardens, designs were submitted by Lancelot "Capability" Brown, but they also benefited from the hand of Humphry Repton. It sits in sloping grounds overlooking the River Wye, north of the village of Moccas, Herefordshire, it is Grade 1 listed and is now a luxurious country guest house.
Previous guests include Martin Amis, Joanna Trollope and Vivienne Westwood. We think it's a great excuse to visit the sundial.