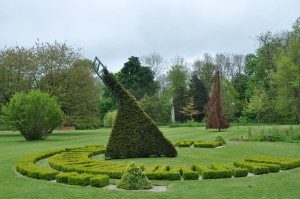 As it is May and we are in the throws of the RHS Chelsea festival we thought it only appropriate that we feature a floral sundial as our sundial of the month.
The wonderful floral sundial at Easton Lodge was created by Diana and Brian Creasy to celebrate the Millennium. It is a replica of an 1890's sundial that was in the gardens of Stone Hall cottage, an ancient cruck cottage on the Easton Lodge Estate, restored by the Countess of Warwick and used as a favourite 'hideaway'.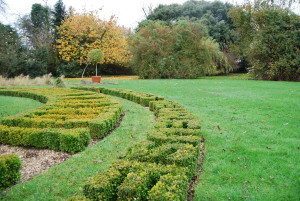 The gardens, like many others, had fallen into decay during and after the last war and the Creasy's took on the enormous task of restoring them. They approached the British Sundial Society whose members got to work calculating the angles of the hour lines and laying out the meridian line so that sundial would point accurately to true North. The gnomon was created as a metal framework for yew to grow over, whilst the hour lines and an inscription were planted in box.
The inscription, in French, reads 'Les heures heureuses ne se comptent pas'. (Happy hours do not count themselves)
The sundial is in the privately owned part of the Gardens to which visitors are allowed access to on open days. The Gardens are now run by The Gardens of Easton Lodge Preservation Trust who have spent many years building on the legacy left by Brian and Diana Creasy.
If you would like to visit the sundial and gardens at Easton Lodge then please find information on their opening times here: