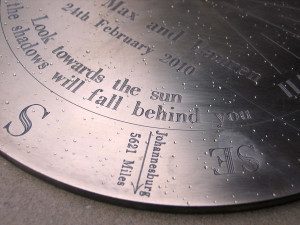 When it comes to wedding presents, it can be hard to choose a gift that will be treasured and also one that will stand the test of time. A bespoke sundial is that rare thing – a gift that will never date; that will be loved and appreciated forever and that can be passed down to the next generation.
Each sundial is made to order and can be personalised, with a heartfelt message or simple date and wedding location – so you can give a highly personal gift to friends or family tying the knot. There are 5 different 'Horizontal' designs you can choose from. These range from the simple 'Classic' design through to the more complex 'Topograph' which allows you to choose places around the world that have a special meaning for the couple. The different designs allow for a varying number of words and letters.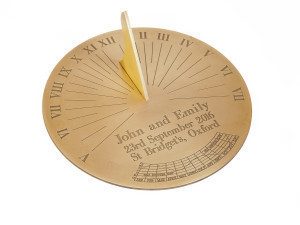 Each beautifully crafted sundial is created to tell the time accurately, wherever the couple is in the world, and can be personalised to the exact co-ordinates of where the dial will sit. They are available in thick, high quality metal – either marine grade Italian brass or bold, eye-catching bronze. Both weather beautifully – mellowing to take on a lovely patina, to blend in with their surroundings. They can be mounted anywhere outside – even in the smallest of gardens.
So if you are looking for wedding present ideas, a horizontal sundial from Border Sundials is the perfect wedding gift for a newlywed couple – something that will truly be treasured forever. It's a thoughtful, elegant, unique gift that will be appreciated and enjoyed over many, many years.