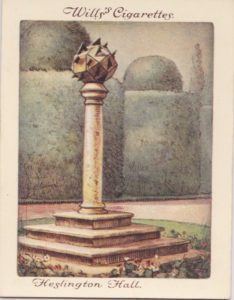 The sundial at Heslington Hall, near York is July's 'Sundial of the Month'. This is the fifth sundial that we've featured from the Wills's cigarette card collection. Each of the cards has some information about the featured dial on its reverse.
"The fine Elizabethan mansion, Heslington Hall, has a beautiful garden which retains many of its early features. Its walks are bordered with yew-trees clipped into fantastic shapes – cylinders, globes and bee-hives – and the picturesque sundial mounted upon its pillar harmonizes perfectly with its old-world setting. This is one of the facet-headed sundials, the stone block being cut into a large number of plain surfaces, each of which forms a separate dial, complete with its gnomon, or marker. Sundials with many facets are also to be seen at Holyrood, Glamis, and elsewhere."
Today, Heslington Hall forms part of the University of York. While the original pillar dial is now missing, it is probable that it would have resided near what is now known as 'The Quiet Place', the gardens which were first formally landscaped in the early 18th century. Today the space is offered for use for meditation and quiet reflection, and has a fine south facing dial which was built in 1855 (see this link https://goo.gl/images/GnH7Nw).
You can read more about the complete 'Old Sundials' cigarette card collection and how we came to acquire it here.