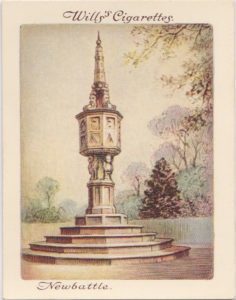 It's time for a new 'Sundial of the Month' from our Wills's cigarette card collection. This month we take a look at the sundial at Newbattle, Scotland, number four in the series.
"Our picture shows one of a pair of fine old sundials which are still to be seen in the gardens of Newbattle Abbey, Scotland, though not in their original positions. They were set up in 1635, and bear upon the north side the arms and initials of William, the first Earl of Lothian and of his wife. There are a number of vertical dials arranged in two tiers round the sides of an octagonal block which is supported upon a carved pedestal. The sundial is surmounted by an elaborately carved spire-shaped finial, the total height being about sixteen feet."
Described as one of a pair of identical sundials at Newbattle, the structures were known as the North Sundial and the South Sundial. During the mid 19th century, both dials were moved from the front to the rear of the house. It's possible that the sandstone dials originally formed part of a sculpture court at the front of the house, as mentioned in The Lothian Correspondence.
You can read more about the complete 'Old Sundials' cigarette card collection and how we came to acquire it here.